MLBVOICE.COMW/MARY CLAUSEN
BASEBALL IS LIFE. THE REST IS JUST DETAILS! Talkin' Cardinals Baseball w/you since 2008
"Love is the most important thing in the world, but baseball is pretty good, too."  ~YOGI BERRA 
Click HERE for Ticket Deals!
THE BIRD POOP ON THURS, JULY 18

RECORD:  48-46 .511                                                      THIRD PLACE & 3.0 GAMES BACK                                 6-GAME HOMESTAND COMPLETED: 4-2 CARDINALS.COM GAME WRITE-UP – CLICK    MLB STANDINGS – CLICK 

WEDNESDAY VS PIT: STL TAKES 2-RUN LEAD WITH GOLDY'S 7TH INNING HOMER. TIMELY HITTING!
MLB.VOICE.COM'S LINEUP – IT'S LOADED!        BATTING LEADOFF: OUR STL BUSINESS AS USUAL~
STLTODAY'S CARDINALS UPDATE! CLICK TO READ
YOUTH FREE MLB BASEBALL CLINIC! CLICK FOR INFO
GAME ON! THURSDAY 7/18/19
GAME OVER! WEDNESDAY 7/17/19
FINAL:  PIT 5 VS STL 6
Carpenter becomes the seventh Cardinals player currently on the injured list, along with regulars Yadier Molina and Marcell Ozuna
THE SKIPPER SAID IT LIKE THIS:"The guys showed up and answered the bell," Shildt said. "It was about digging in and keep fighting." 
St. Louis –The Central Division showdown continues. All five teams are within 5 1/2 games of each other. Probably a first. It's a dog fight! Since coming off the All-Star break we have won both series played.Woo hoo!  That keeps us right in the middle of it.
July 31 is the Trade Deadline. Because we're so close in the standings, the next two weeks will determine if we are buyers or sellers. It will be a hard deadline. Time will tell!
"This division is up for grabs," bullpen pitcher, Dominic Leone said. "Any win is huge, but we have an opportunity right now to continue to play good baseball, attack, grind and separate ourselves from teams in the division. Any time you win a series against a team and you turn around and play them again right away, that lingers. They know we beat them. We'll take that momentum."
Wednesday afternoon was a come-from-behind 6-5 win. Series finale & homestead finale. We had timely hitting and good work from our bullpen.
Paul Goldschmidt broke a 0-for-10 to smack a very necessary seventh inning 3-run homer that went into the Bucco bullpen. It gave STL a lead our bullpen held on to. Nice!
More offense! Baby Bird, Tyler O'Neill, is still on that tear at the dish! Wednesday he was 2-for-4 with another homer, a solo shot. That's his fourth home run in the last five days. A 411 ft. shot to left field. O'Neill is 10-for-19 with 11 RBIs. 
Wednesday's opener, Daniel Ponce de Leon, only made it through 3 2/3 innings. Both walks allowed (2) came around to score. He's been given a chance to see what he can do in that role.  Have faith! You'll do better next time, Ponce!

Our bullpen didn't allow a baserunner from the fourth inning till top of the ninth. John Brebbia pitched two innings with four strike-outs. Six up and six down. Since his son was born, he's been fantastic! Bet Henry is proud of his daddy!
REPORT: This week we passed the 2 million mark in attendance. We are only the second MLB team to have attendance numbers like that. Thank you, Cardinals Nation!!
Wednesday closed out this homestand. We took a Happy Flight! to Cincinnati. Thursday we begin four games @ Reds and then four more games @ the Bucs. Go Cards — you got this!!
Up next? 8-GAME ROAD TRIP BEGINS: @CIN/4, @PIT/4. THURS @CIN 6:10, FRI @CIN 6:10, SAT @CIN 6:10, SUN @CIN 12:10, @PIT/4: MON @PIT 6:05, TUES @PIT 6:05, WED @PIT 6:05, THURS @PIT 11:35

Then. . .6-GAME HOMESTAND: VS HOU/3, VS CHC/3.

MORE? CLICK STL SCHEDULE
OPENER

: Daniel Ponce de Leon   IP3.2/H8/R4/ER4/BB2/SO3/HR1/ERA2.80
STL USED 6 PITCHERS/NINE INNINGS. TOTAL STL K's: 9,TOTAL STL BB's: 2: Ponce de Leon 3.2 (73-50), Leon (2-1), Shreve (11-7), Brebbia (23-16), Miller (14-8), Martinez (21-16)
STL HR ALLOWED: Marte (1st inning off Ponce de Leon, 0 on)
OFFENSE: STL

RUNS SCORED:

1ST INNING 1/2nd – /3rd  1/4th -/5th 1/6th -/7th 2/8th – /9th –     STL K'd 10 TIMES    BIRDS LEFT ON BAGS: 2  PIT LOB: 9  
RBIs/STL: Goldschmidt (23), Martinez, J (32), O'Neill 2 (15)
HR/STL: 2! 1! O'Neill (5, 5th inning, 0 on) 2! Goldschmidt (18, 7th inning, 2 on)
Tyler O'Neill has been a force to recken with and we like that excitement!
"[O'Neill has] been a force in the middle of the lineup," Goldschmidt added. "It's been nice hitting in front of him. You don't have to do too much, you can think, 'Hey, if I get on base, he might drive me in.'"

Wednesday vs PIT: Rookie catcher, Andrew Knizner gets his first Major League career hit!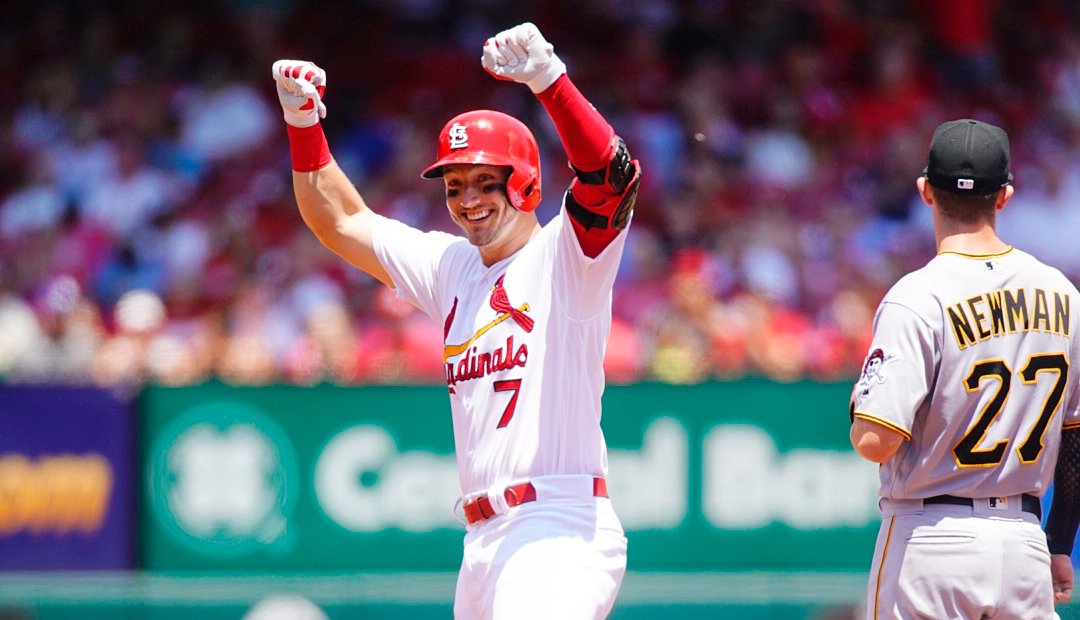 DEFENSE:

$100 CARDINALS CARE 1 DP's                            STL HIT INTO  0 DP's  STL MADE 0 E's
VIDEO – CLICK FOR MORE:

 
PAUL GOLFSCHMIDT: GOLDY TALKIN' W!
SIXTH INNING: JOHN BREBBIA STRIKES OUT THE SIDE!
FIFTH INNING: TYLER O'NEILL LAUNCHES HIS NO-DOUBTER!
SECOND INNING: KNIZNER'S FIRST CAREER HIT!